Hebe 'Baby Marie'
Common Name

: hebe 'Baby Marie'
Type

: Shrub
Habit

: Compact
Height

: 0.1-0.5 metres
Spread

: 10-50 cm
Flower colour

: White
& Lilac blue
Flowering from

: April
to

April
Foliage

: Evergreen
Foliage colour

: Green
Hardiness

: H4

Hardy through most of the UK -10° to -5°
Sunlight

: Full Sun / Part Shade
Moisture

: Well-drained / Moist but well-drained
Soil

: Neutral / Alkaline
Season of interest

: Spring - Summer - Autumn - Winter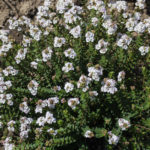 H. 'Baby Marie' is a compact rounded evergreen shrub to 40cm tall, with small leaves and short racemes of pale lilac flowers in early summer.
2020 – Very beautiful flowering from April 10th onwards. Specimen at the front faded and therefore pruned around April 25th. Very short flowering period!
2019 – Flowering buds at the end of March. Beautiful flowering at the end of April, especially on the most beautiful specimen. Faded mid May. K. removed faded flowers.
2018 Planted in April to replace Polygala which did not survive the winter. A flowering specimen was planted at the end of April. The other one starts at the beginning of May. Good development this season.