Under the pergola, a lattice had been occupied for 3 years by a garrya elliptica which had grown in all directions, but without ever blooming. Maybe a specimen that never blooms? In any case, tired of this waiting, I decided to replace it with a decor that would have a more immediate effect.
I was inspired by Jack Wallington's blog and his ferns wall (Fernatic: 50 fern species, 1 living wall). As an experiment I have started on a modest scale, with only about ten different species or varieties. 8 ferns were purchased and potted in mid-June. I added a fern (unidentified) from the nearby forest and a splinter of my Athyrium niponicum fern 'Metallicum', which grows in the ground under the pergola.

For the containers I opted for terracotta pots, made on request and to measure by my gardener's assistant / potter / ceramist. These square pots have 2 holes at the back, and the hanging system consists of a pair of slate hooks.
This combination is ideal for hanging the pots on the mesh.

Here is the result, 10 pots of 10 varieties of ferns, hung on the lattice in the shade of the pergola. The shade comes from the akebia quinata, which completely covers the pergola and even overflows a little. In the middle of summer only the ferns in the upper row see a bit of the morning sun.

With this hanging system, we have the same problem as with the system used by Jack Wallington, namely that the pots are inclined forward, and therefore the water tends to come out of the pot from the front. So I added (temporarily) cleats to raise the pots, which are now almost vertical. It's better for watering.
After a month and a half, the ferns are in great shape. They are entitled to their daily watering, at the rate of one and a half litre bottle for the whole, or even 2 bottles during the heat wave.

Click on the pins to display the names of the species.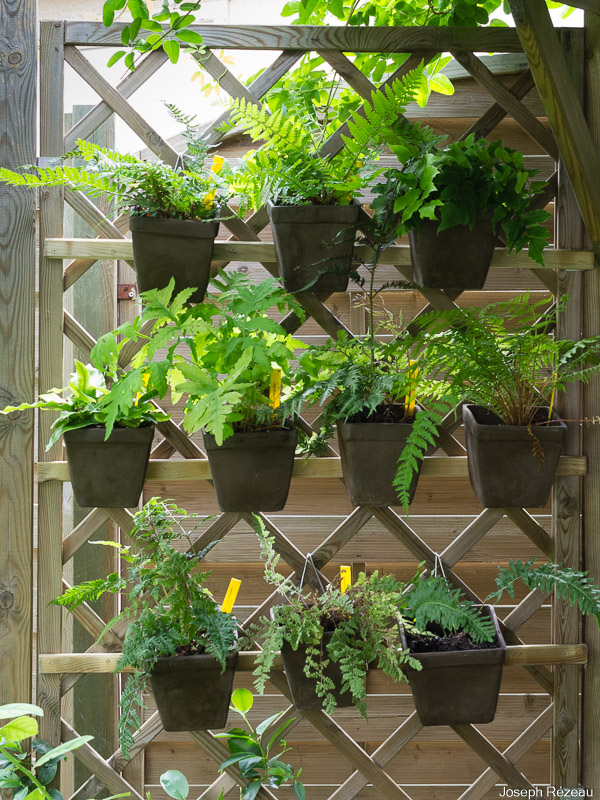 To be continued….