Acanthus mollis
Common Name

: bear's breech
Family

: Acanthaceae
Type

: Herbaceous Perennial
Habit

: Columnar/Upright
Height

: 1-1.5 metres
Spread

: 1-1.5 metres
Flower colour

: White
Flowering from

: July
to

August
Foliage

: Deciduous
Foliage colour

: Green
Hardiness

: H6

Hardy in all of UK and northern Europe -20° to -15°
Sunlight

: Full Sun / Part Shade
Moisture

: Well-drained
Soil

: Acid / Alkaline
Season of interest

: Summer - Autumn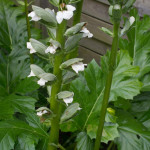 A. mollis is a vigorous plant with large, glossy dark green leaves, pinnately lobed and, in late summer, tall racemes of white flowers with dusky purple bracts.
2018.- As usual beautiful foliage not diseased in winter.
2017.- April: good-looking foliage. Sprayed against oidium mid-May. Disappointing flowering.
2015.- Good leaves growth in the Spring, but soon covered in powdery mildew. Had to chop leaves down to ground level. New growth in June, nice foliage in the summer.
Unknown origin.