Deutzia gracilis 'Nikko'

Has received the RHS Award of Garden Merit.
Common Name

: deutzia gracilis 'Nikko'
Type

: Shrub
Habit

: Bushy
Height

: 0.5-1 metres
Spread

: 1-1.5 metres
Flower colour

: White
Flowering from

: May
to

June
Foliage

: Deciduous
Foliage colour

: Green
& Purple
Hardiness

: H5

Hardy in most places throughout the UK even in severe winters -15° to -10°
Sunlight

: Full Sun / Part Shade
Moisture

: Moist but well-drained
Soil

: Acid / Neutral / Alkaline
Season of interest

: Spring - Summer - Autumn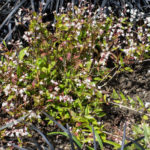 'Nikko' is a compact and low-growing shrub 60cm tall, with narrowly lance-shaped leaves often turning deep purple in autumn, and racemes of small white flowers in spring and early summer.
2020 – The new foliage starts to grow in mid-February. Nicely flowered from the end of April to mid-May. Spreads slowly.
2019- Leaf buds (and flowers) mid February. In good shape this season. Full of flower buds first half of April. Nicely flowered end of April. Very beautiful flowering first half of May. Foliage a little tired this summer.
2018 – Leaf buds mid February. A few flower buds mid April. A little weak. Fit during June.
2017- Planted in the western border in the middle of the ophiopogons. A little difficult to pick up again. OK in July (watered).