Erigeron glaucus
Common Name

: seaside fleabane
Type

: Herbaceous Perennial
Habit

: Bushy
Height

: 0.1-0.5 metres
Spread

: 10-50 cm
Flower colour

: Pink
Flowering from

: July
to

October
Foliage

: Semi-evergreen
Foliage colour

: Blue-Green
Sunlight

: Full Sun
Moisture

: Moist but well-drained
Soil

: Acid / Neutral / Alkaline
Season of interest

: Summer - Autumn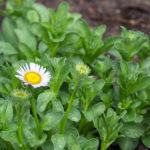 Syn. Beach Fleabane Daisy
A very tough species, native to coastal regions of California and Oregon but hardy over a wide area. This forms a cushioned mound of leathery and thick evergreen leaves, bearing upright stems of soft lavender-blue daisies, each with a yellow eye. Blooming begins in late spring and lasts for weeks. Terrific for mass planting in sunny locations with poor, dry soil. Tidy up the plants in early spring before new growth begins. Easily divided in autumn or early spring.
2020 – Well through the winter.
2019 – The C8 specimen keeps its foliage this winter. Beautiful regrowth in spring. First flowers on June 2nd. Only one specimen this summer.
2018- Keeps its foliage in winter. Strong growth in spring. First flowers on June 8th. All but 1 specimen in C8.
2017 – Planted 1 group of 5 specimens in the western border in C16 instead of the 'Pink Octopus' bellflowers which do not produce anything. Beginning of flowering mid June on some specimens. Almost all flowering in mid-July. The faded flowers are ugly. Remove all wilted stems at the beginning of August. New flush of flowers at the end of the season. Planted 2 specimens in C8.