Hakonechloa macra 'Aureola'

Has received the RHS Award of Garden Merit.
Common Name

: golden hakonechloa
Type

: Grass-like
Habit

: Tufted
Height

: 0.1-0.5 metres
Spread

: 0.5-1 metres
Foliage

: Deciduous
Hardiness

: H7

Hardy in the severest European continental climates < -20°
Sunlight

: Part Shade / Full Shade
Moisture

: Moist but well-drained
Soil

: Acid / Neutral / Alkaline
Season of interest

: Summer - Autumn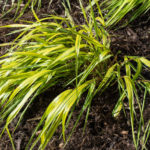 Hakonechloa is a deciduous perennial grass forming a compact tuft of arching stems bearing linear leaves, with arching flower panicles in late summer and autumn. 'Aureola' is a neat, clump-forming deciduous grass to 30cm, with narrow, arching, green-striped, bright yellow leaves, often reddish-tinged in autumn and early winter. Flowers insignificant.
See http://www.gpnmag.com/article/hakonechloa-macra-aureola/
2020 – Re-starting at the beginning of March. Beautiful foliage in April.
2019 – Re-starting in early March. Beautiful foliage in May.
2018 – Only 2 specimens overwintered. Beautiful foliage in late May.
2017: Planted 3 specimens in March 2017 in the western border. Slightly suffered from the unusual heat at the beginning of April. Really not a pretty sight at the end of April. Shaved off the ugly specimen at the end of April. Early May relocated 2 specimens under the pergola in P19 and the ugly specimen remained in a pot for observation. Still ugly end of May. Best appearance mid June for the 2 specimens under the pergola, a few shoots for the potted specimen. Good recovery of the 3 specimens in July (regular watering).