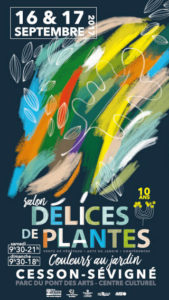 For the 3rd year running we visited the nearby Salon Délices de Plantes in Cesson-Sévigné. The weather was changeable, with a few showers which forced us to take shelter under the exhibitors' tents… and of course encouraged us to succumb to temptation. Eventually we were quite reasonable and only bought two specimens. See below.

– Hydrangea paniculata Pastelgreen® 'Rencolor' on the stand of the Vincent Besnard nurseries. A new cultivar which was awarded a silver medal at the Plantarium in Boskoop in 2016. Planted north of the pergola, in half-shade.

– Clematis Samaritan Jo™ 'Evipo075', also a relatively recent variety (2013), on the stand of the Van Nuffelen brothers.